Why Mahdion Financial?
Your financial needs are our number one priority.
With integrity, knowledge and excellent personal service as the building blocks of our practice, for over twenty years, we have continued to meet the changing needs of individuals, businesses, employers and advisors every day.​
How Mahdion Financial does it?
We identify your concerns and set goals:
What needs do you feel are lacking in your executive planning and personal financial planning goals? We are able to help identify and set obtainable financial goals through our many retirement planning products, health insurnace, key-person benefits, executive bonuses, and many more soultions on a mutually comprehensive level.
We offer alternative solutions:
Which of your financial needs do you feel is lacking? Our financial professionals offer a comprehensive review of your current strategies, offer potential solutions, weigh the alternatives, and ultimately help you make the choice to help meet your needs.
We implement and communicate:
We help you prioritize and implement customizable executive planning and individual financial planning solutions to fit your personal and business needs through our wide product range and extensive successful experience.
We evaluate the plan:
When was the last time you evaluated your business or reviewed your current financial planning? We offer annual reviews in life insurance, informal buisness reivews, buy-sell reviews, retirement plan reviews, and many more to help maintain your objectives.
In any scenario, we are ready to assist you with personalized guidance and recommendations.
Meet the Professionals: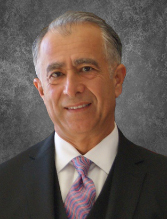 R. Xavier Mahdion
Senior Financial Representative
Principal Securities Registered Representative
CA Lic 0722184
Being well known for his attention to detail and friendly personality, Xavier's reputation for excellent customer service differentiates him from other professionals. Having been in the industry since 1987, his knowledge and experience has allowed him to meet the financial needs of a wide range of small-and medium-sized business owners, and individuals. His retirement and estate planning knowledge has helped in the following areas:
Works with your CPA's recommendations to facilitate strategies to help minimize tax liability

Helps clients establish employment related benefit programs to help minimize taxes

Provides investment and insurance options to help fortify your protective financial planning efforts

Assists clients in designing the structure of distributions from qualified and nonqualified benefit plans

Assists clients with their estate planning and establishing strategies to help reduce estate tax liability

Monitor and evaluate established benefits and or retirement plans to maintain goals
Memberships
San Diego Better Business Bureau (BBB)

Financial Planning Association (FPA)

National Association of Insurance and Financial Advisors (NAIFA)

Life and Qualifying Member of Million Dollar Round Table (MDRT)

San Diego Society for Human Resource Management (SDSHRM)

Asian Business Association (ABA)

CalCPA

Inducted in the Hall of Fame for The Principal Financial Group Hall of Fame Southern California Business Center San Diego office (2014)
Justin C. Frisco
Senior Financial Representative
Principal Securities Registered Representative, Financial Advisor
CA Lic. # OD63552
Justin C. Frisco has been successful in the application of a needs-based approach for businesses and individuals. Using this approach with his clients has helped worked towards maximizing their net worth, while minimizing taxes.
Justin is a board member of the National Association of Insurance and Financial Advisors (San Diego Chapter) and also, the recipient of the Principal Financial Group® Southern California Business Center's New Producer of the Year (Class of 2002).